Auditions for "Thoughts and Prayers" a new play by A.M. Dean
November 16, 2019 @ 8:00 pm

-

November 17, 2019 @ 11:00 am

Free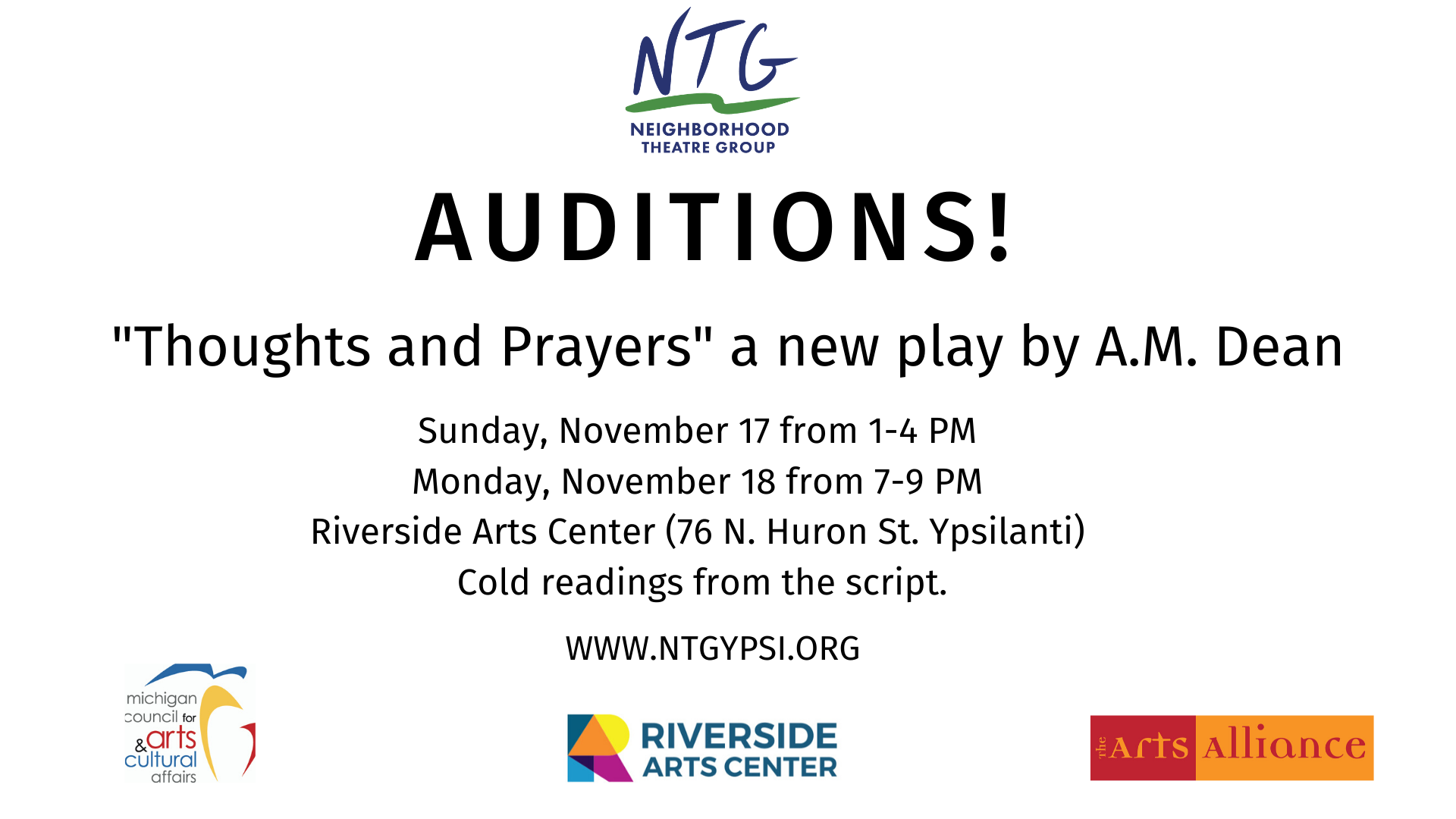 Neighborhood Theatre Group is holding auditions for the premiere of "Thoughts and Prayers" a new play by A.M. Dean. Directed by Marisa Dluge
Sunday, November 17 from 1-4pm and Monday, November 18 from 7-9pm at Riverside Arts Center (76 N. Huron St, Ypsilanti)
Cold readings from the script.
Performance dates are February 28-March 1 and March 6-8 at Riverside Arts Center Studio One. Rehearsals begin January 6 and are Mon/Wed/Thurs 7-10pm and Saturdays 1-4pm. Tech week begins February 24. You must be available all of tech week. All rehearsals are in Ypsilanti.
Actors will receive a stipend.
To reserve an audition time, please email info@ntgypsi.org with your preferred date and time. Walk-ins will be seen but those with an audition time will be seen first.
SYNOPSIS: A gun and manifesto are found in the saxophone case of a high school student. The botched school shooting leads to an experiment by the Department of Education to militarize teachers. Huron Valley High School becomes the test subject, all while a mysterious charter school is opening in the community. This original play by A.M. Dean asks the question: What becomes of a society that arms their teachers?
CHARACTER BREAKDOWN:
JEFF BERNER, Late 30's – A musician whose band has just broken up for the last time. Jeff comes home to Huron Valley from LA to lick his wounds. He becomes the custodian at Huron Valley High School, his alma mater, and is the one who finds the gun and manifesto while cleaning the band room.
MELANIE WEBBER, Early 40's – Jeff's older sister. She teaches AP Literature at Huron Valley High School. She got Jeff the job and is one of the teachers being trained to use a firearm.
DOUG WEBBER, 40's – Melanie's husband. Doug is the owner and operator of Destination Fun! An explorer themed mini golf course with the works. Laser tag, go-karts, an arcade, batting cages…Doug is an avid hunter and a gun owner, but is deeply suspicious of the arming program and worries about his wife's ability to handle the weapon, considering she has hated his guns for years. Doug is interested and curious about the charter school opening up, thinking it might be a better option for both his wife and son.
SARAH ALLISTER, 30's/40's – A federal agent with the Department of Education. Sarah is sent to Huron Valley to train the teachers in the use of firearms. She is prone to nightmarish apocalyptic visions, and is convinced she has lived multiple past lives. All this she has kept secret for years from her family and employer, but might not be able to for long. She is secretly seeking help.
BECCA FINK, Late 20's – Sarah's secret regression (past lives) therapist. Becca moved to Michigan with Jeff for a new adventure and to use (less) drugs. She and Jeff are friends who met in the music scene and who dated for a time. She has an MD in psychiatric medicine from Stanford University but can't practice the "fringe" therapy she wants to.
ANDY WEBBER, 17 – Melanie and Doug's son. Andy is second chair alto saxophone in the HVHS concert band. Tyler Buxton, who left the gun and the manifesto is first and Andy's best friend. Andy works at Destination Fun! in the summer and his parents get the feeling he doesn't try very hard in school.