Comic Opera Guild presents John Philip Sousa's The Bride Elect
October 28, 2021

-

October 31, 2021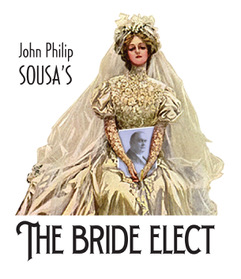 This month, The Comic Opera Guild is renting Riverside's theater to bring you John Philip Sousa's The Bride Elect to be performed in concert style.
The Princess Minutezza of Capri was elected to marry King Papagallo of Tiberio as part of a peace treaty. Papagallo has arrived in Capri to carry out the wedding, but Minutezza now loves another. She goes to extreme lengths to avoid the wedding, including recruiting a gang of brigands. Around this comical plot, John Philip Sousa weaves his musical magic.
Now renowned as The March King, Sousa was one of the kings of Broadway around the turn of the 20th Century. THE BRIDE ELECT (1898) is the only operetta for which Sousa wrote the music, book and lyrics! This work, like others of the period, has been neglected, but the Comic Opera Guild will bring it back to life with a talented company of performers. The Guild's revivals have all been recorded, and have been shared around the world. 
Dates:
Thurs. Oct. 28, 8 pm
Friday, Oct. 29, 8 pm
Saturday, Oct. 30, 8 pm
Sunday, Oct. 31, 2 pm
Tickets available online at a2tix.com, and at the door
Information at comicoperaguild.org and 734-973-3264
General Admission
Adults $18
Seniors $15
Students $10
Seating will employ social distancing. Attendance will follow county and state best practices current at the time of performances, including masking and proof of vaccination or recent Covid test.
Directed by David Troiano
Featuring:
Angela Hench as La Pastorella, Zoe Zdrojewsky as Minutezza, Dorothy Duensing as Bianca, Thomas Petiet as Papagallo, Matthew Cook as Guido, Chris Grapentine as Gambo and Robert Douglas as Buscato.
Related Events