Mittenfest XVI
December 27, 2019 @ 2:00 pm

-

7:30 pm

$10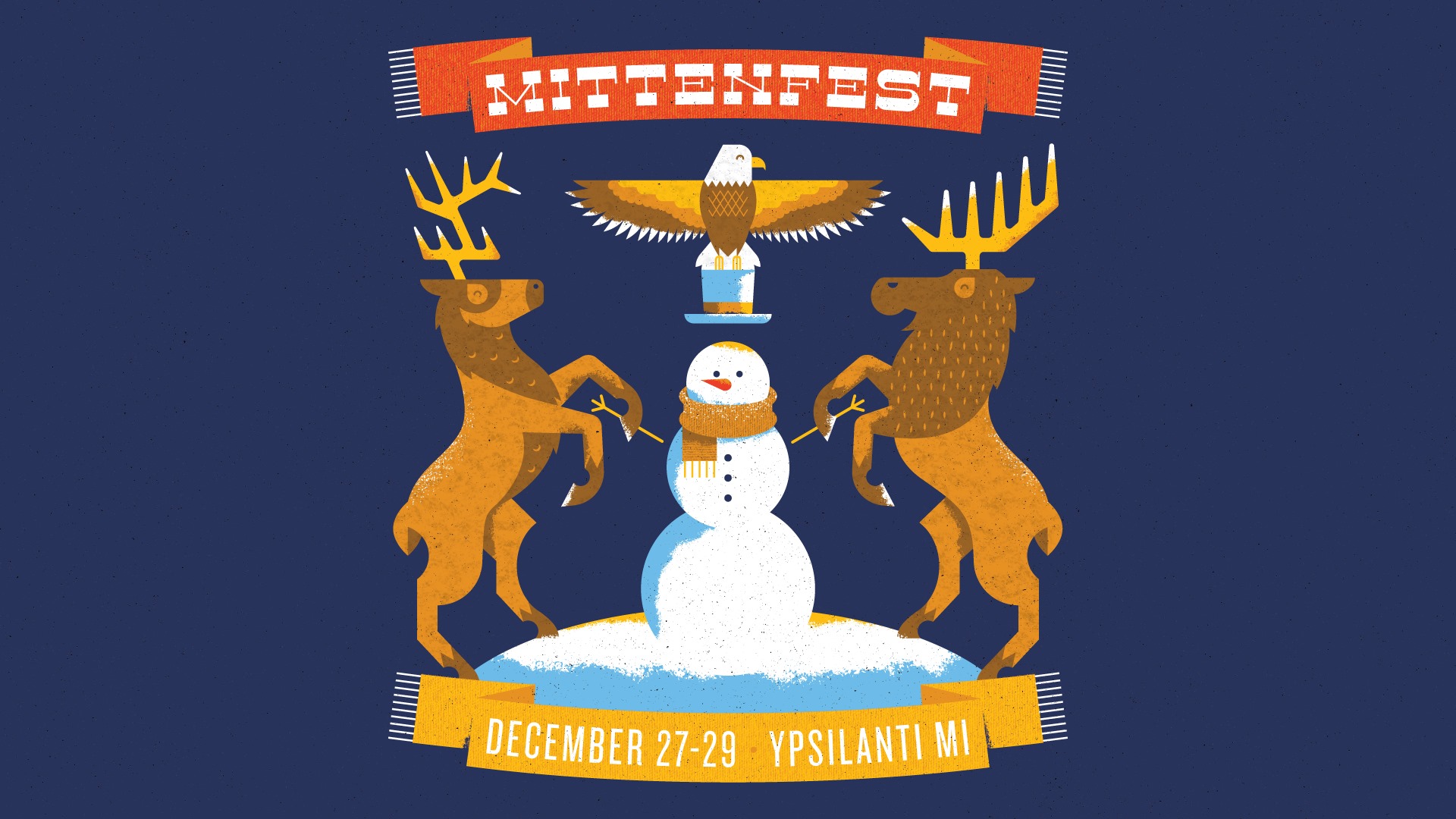 Fourteen years and counting! Mittenfest is an annual music festival that celebrates all that our incredible local music scene has to offer while raising money for 826michigan, an Ann Arbor and Detroit-based writing and tutoring center for kids ages 8-18.
We've had many homes over the years, and this year we are excited to have landed at the Riverside Arts Center in beautiful downtown Ypsilanti, MI.
Three nights, 21 acts, $10/night. Doors at 6:30pm.
All ages/sexes/genders. Beverages provided by Cultivate Coffee & TapHouse.
THE SCHEDULE:
Friday Dec 27
————–
7:00 – Ki5
https://www.ki5loops.com/
7:45 – Blue Jeans
https://bluejeans1.bandcamp.com/
8:30 – Scary Women
https://scarywomen.bandcamp.com/
9:15 – Little Traps
https://littletraps.bandcamp.com/
10:00 – Dani Darling
https://www.facebook.com/danidarlingmusic/
10:45 – The Daynites
https://www.facebook.com/TheDayNites/
11:30 – Frontier Ruckus
http://www.frontierruckus.com/
Saturday Dec 28
—————–
7:00 – Joel Parkkila
https://joelpatrickparkkila.bandcamp.com/
7:45 – Joanna and the Jaywalkers
http://joannajaywalkers.bandcamp.com/
8:30 – Priest Potion
https://priestpotion.bandcamp.com/
9:15 – Fat Angry Hens
https://soundcloud.com/user-826253807/
10:00 – Matt Jones and the Reconstructions
https://mattjones.bandcamp.com/
10:45 – Slug Love
https://sluglove.bandcamp.com/
11:30 – Louis Picasso and the Gallery
https://www.hiiigherminds.com/home/
Sunday Dec 29
—————-
7:00 – Isaac + Dr. Ruby
https://isaaclevine.bandcamp.com/
7:45 – Trey Priest
https://treypriest.com/
8:30 – Dr. Peter Larson
https://peterslarson.com/
9:15 – Anne Erlewine
https://www.anneerlewine.com/
10:00 – Approachable Minorities
https://approachable-minorities.bandcamp.com/
10:45 – don't
https://dontmi.bandcamp.com/
11:30 – minihorse
https://mnihrs.bandcamp.com/
**Mittenfest is committed to creating a safe and welcoming environment for everyone. We have a zero tolerance policy for harassment, unwanted touch, homophobic, transphobic, racist, sexist, or other discriminatory behavior. If you or anyone you know is feeling uncomfortable or being harassed, please speak to a staff member or organizer, and we will help.
The show will take place in the Gallery. The venue entrance is street-level with a small flight of stairs down to the show space. Elevators and gender-neutral restrooms are available. Alcohol will be served.**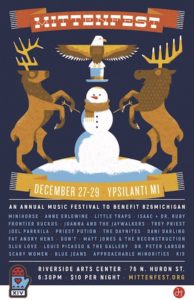 ABOUT MITTENFEST
---
Mittenfest is an annual music festival in Washtenaw County, Michigan, that serves as a fundraiser for 826michigan as well as a good-time holiday get-together. It was founded in 2006 by Brandon Zwagerman as an addition to the backyard and campus shows he had been organizing while a student at the University of Michigan – Ann Arbor.
Mittenfest is now in its 14th year, and has taken place in venues such as Corner Brewery, The Blind Pig, The Elbow Room, Woodruff's, Bona Sera – and now the Riverside Arts Center!
Previous Mittenfests have featured upwards of 60 bands, encompassed over 5 packed days of music and revelry, and have seen crowds of upwards to 1,500 (and perhaps even 2,000) in attendance of the annual multi-day event.
The inaugural S'Mittenfest was organized as a way to provide support and promotion for the newly-founded Detroit faction of 826michigan, and featured two stages at the Magic Stick on a single summer Saturday in 2013.
ABOUT 826MICHIGAN
---
826michigan is a non-profit organization dedicated to supporting students ages 6 to 18 with their creative and expository writing skills, and to helping teachers inspire their students to write. Our services are structured around our belief that great leaps in learning can happen with one-on-one attention and that strong writing skills are fundamental to future success.
826michigan is part of a nationwide network of non-profits, started in San Francisco by famed writer and editor Dave Eggers (826 Valencia). Have you heard of A Heartbreaking Work of Staggering Genius or McSweeney's? Well, he's behind both. Anyway, a few years back he decided to start a non-profit organization that focused on mentoring kids in creative writing.
Founded by Ann Arbor writer Steven Gillis, 826michigan is a chapter of that national non-profit organization. Through afterschool, drop-in tutoring, field trips, workshops, writing rooms, and various other means, 826's main goal is to inspire young people and foster their creativity. 826 takes kids very seriously in an often not-so-serious way. Programs are free of charge. We are not responsible for how overwhelmingly creative or thoughtfully energized any young person may be upon leaving 826. We should note that they are located at the world-renowned Liberty Street Robot Supply & Repair in Ann Arbor, MI as well as the new Detroit Robot Factory in Detroit, MI.