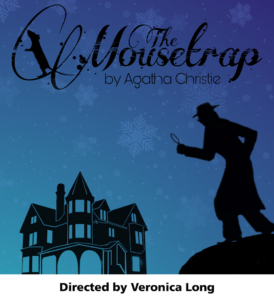 After a local woman is murdered, the guests and staff at Monkswell Manor find themselves stranded during a snowstorm. It soon becomes clear that the killer is among them, and the seven strangers grow increasingly suspicious of one another. A police detective, arriving on skis, interrogates the suspects: the newlyweds running the house; a spinster with a curious background; an architect who seems better equipped to be a chef; a retired Army major; a strange little man who claims his car has overturned in a drift; and a jurist who makes life miserable for everyone. When a second murder takes place, tensions and fears escalate. This record-breaking murder mystery features a brilliant surprise finish from Dame Agatha Christie, the foremost mystery writer of her time.
This Production Features:
Mei-Lin Wong as Mollie Ralston
Gavin Allen as Giles Ralston
Sam Johnson as Christopher Wren
Jan Romans as Mrs. Boyle
Larry Rusinsky as Major Metcalf
Eƶra Korycinski as Miss Casewell
Avery Koenig as Mr. Paravicini
Russ Schwartz as Detective Sergeant Trotte
TICKET INFORMATION
Adults/general admission: $20

Students, seniors, and active military: $15

DISCOUNTED TICKETS — AVAILABLE AT THE BOX OFFICE ONLY

Pay What You Can: Thursdays
GROUP RATES
Groups of 6–12: Adults $18 • Students, seniors, and active military $13

Groups of 13–20: Adults $17 • Students, seniors, and active military $12

Groups of 21+: Adults $16 • Students, seniors, and active military
Tickets can be purchased directly through PTD Productions. Riverside Arts Center does not sell tickets to the show.