Washtenaw E.A.T.S. (Equity and Transformation Soiree) – January
January 24 @ 6:00 pm

-

8:00 pm

$10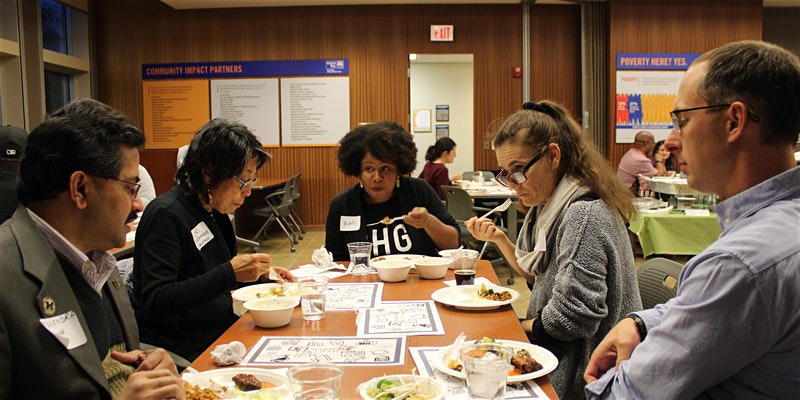 Washtenaw EATS are opportunities to bring together all the different folks working to advance racial justice in our county and form stronger inter-group connections. While the work each of us does on our own or in our organizations is absolutely vital to the progress we're all aiming for, it is also important that we take time to get to know others who share our goals; we can accomplish so much more together than we can alone. So when you join us for EATS, expect to build community in a way that fosters genuine connection and feels energizing, inspiring and fun. We ask that you come with an open heart, a willingness to share and interact, and an empty belly (cuz we're going to feed you some great local food). We invite you to come break bread with members of the Leaders of Color Fellowship, Allies Academy, and other champions for change to make memories, strengthen connections, and build community among people working for justice.
Washtenaw EATS is open to all folks interested in advancing racial equity in our county! You don't need to be a Leaders of Color Fellow or member of the Allies Academy to join in these incredible gathering opportunities. While we're asking for a $10 donation from those who are able to pay, please don't hesitate to reach out if that's a burden. Email wjones@new.org and we'll work it out. We want you to be a part of this!
Unfamiliar with Champions for Change? Click the link to learn more about the program and our work to address the racial leadership gap in Washtenaw county.
Can't make this event, but still want to be a part of the conversation? Consider joining one of our other upcoming "soirees":
February – Thursday, February 13th from 8am – 9:30am at Brown Chapel AME Church
March – Thursday, March 19th from 6pm – 8pm at Riverside Arts Center
"Food is more than survival. With it we make friends, court lovers, and count our blessings. The sharing of food has always been part of the human story…. Retrieved from the ashes of Vesuvius: a circular loaf of bread with scoring marks, baked to be divided. 'To break bread together,' a phrase as old as the Bible, captures the power of a meal to forge relationships, bury anger, provoke laughter…. And even when times are tough, the urge to celebrate endures." – Victoria Pope, Editor, National Geographic
A big thank you to Riverside Arts Center and Washtenaw Coordinated Funders for their generous support of this event!
Related Events