Student Advocacy Center of Michigan presents:
EMPTY CHAIR PROJECT
Every day, 6 Michigan students are expelled from school and hundreds are suspended or absent. Every empty school chair represents a complex story and missed opportunity to learn and grow. Since 1975, Student Advocacy Center has worked to fill those empty chairs through life-changing case and cause advocacy, support and mentoring. 
We are proud to partner with local art students to elevate real-life stories from students who are hurting and need our support.
In the past, students have used vintage and found chairs to create the art pieces to elevate stories of empty chairs — pieces that were unveiled at our annual storytelling event and then displayed for at least a month after the event at local businesses and public spaces. With COVID-19, our project was interrupted and new plans quickly emerged. Student Advocacy Center is grateful to partner with Riverside Arts Center to showcase these pieces, which will eventually be printed and shared with our sponsors for display.
Riverside Art Center is honored to host this virtual exhibit showcasing these powerful stories.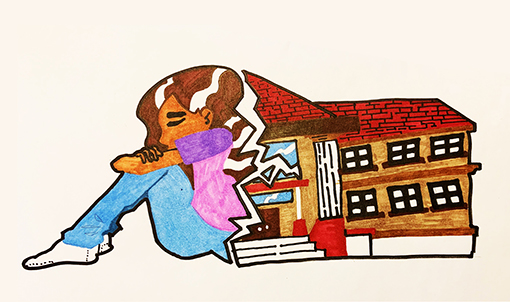 Artist: Nimrod Jones-Querty
Amelia, 17 | 12th grade
Amelia missed almost two weeks of school due to a racist incident that occurred at her high school. She never imagined that her thriving and highly ranked educational system would house the hostility and racial terror that is plaguing our country. Unfortunately, this wasn't Amelia's first encounter with racial incidents at this school. She was even notified by a friend that a threat was made against her. When she went to the school administrators to report it, their response was that they were handling the situation but had never notified Amelia that she had been targeted. Feeling isolated, marginalized, and unwelcome she decided to graduate high school early and is hoping that the school district finally takes the voices and bodies of students of color seriously.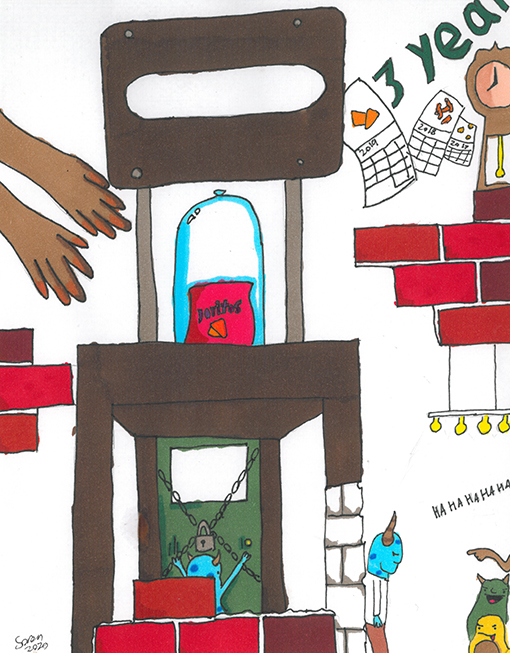 Artist: Soren Stone-Palmquist, 7th grade
Mike, 13 | 5th grade
Mike missed school after he was suspended for an incident in his cafeteria. Mike was accused of stealing and eating a bag of chips from another student. The dean said she could smell the chips on his breath and disciplined him in front of all of his friends, ordering him to stand on the wall. Mike refused and tried to leave the cafeteria. The dean was blocking his way with her arm outstretched. She says that Mike pushed her–a charge he continues to deny. The school put him up for a 45-day suspension. Mike had no history of physical outbursts. The family had been asking for help for three years, requesting a special education evaluation, because they suspected he had a learning disability. He was functioning academically about 3-4 years behind his peers. Because of the district's failure to evaluate, as required under federal law, they could not remove him without evaluating him. With our help, he got back in school and has been promoted to 6th grade.
Artist: Princess Blackburn
Brian, 14 | 8th grade
Brian was threatened on social media by someone who said they know the way he walks to and from school and that he better watch his back. Brian, out of fear for his safety, decided to carry a knife on him as he felt he was protecting himself. Another student informed staff that Brian had a knife on him. Brian was searched and the knife was found in his pants. The school recommended that Brian be permanently expelled. Ultimately, the district's hearing officer decided on a 59-day suspension. Brian's grades greatly suffered because he was completing weekly homework packets on his own with no teacher assistance. He has one excused absence. While Brian was on suspension, the school team met and determined he was eligible for a 504 Plan and it would be implemented upon his return. This has helped Brian stay on task and focus and he is currently passing all of his classes.
Jack, 20 | 10th grade
Jack has had numerous challenges getting to and from school, such as lack of transportation and loss of several family members. He has to rely on the city bus system to get to and from school. Jack has had to wait outside for the bus for upwards of an hour and then take an hour and a half commute to school. During the winter months, this commute is hard to endure and limits the desire for this student to get to school on time, if at all. Jack has to rely on this transportation, which also brings up the expenses of traveling. Additionally, Jack has had many emotional barriers that have made it challenging to find the drive to endure the conditions of just traveling back and forth to school. Jack has lost many family members to street violence and various health conditions. Most recently, Jack lost his father, who he says is "one of his biggest motivators." Despite his extreme resilience, he has found it challenging to prioritize school over taking care of family. Jack's attendance has slightly improved  but there are still major barriers that make it challenging for him to get to school every day.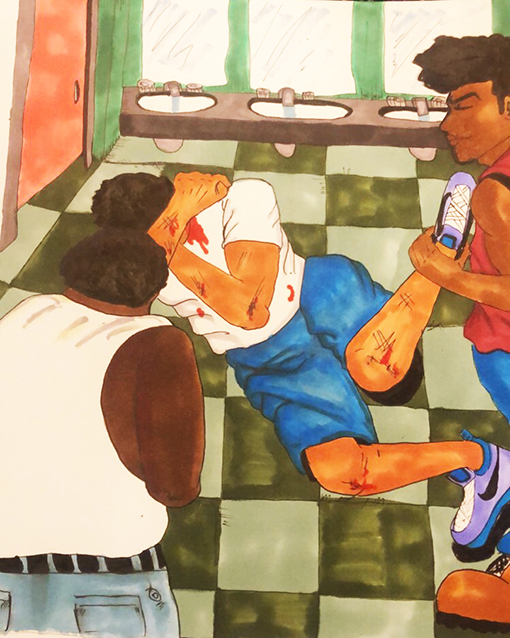 Derrick, 15 | 9th grade
Derrick was involved in a fight after another student confronted him in the bathroom. Derrick was thrown to the ground and struck multiple times in the head and face by the other student. This was his third fight of the year, so he faced expulsion for the rest of the year. Derrick has experienced significant trauma in his life. Student Advocacy Center argued that his punishment be reduced and more support be put in place. We were successful in reducing the number of days out, but the school board still voted that Derrick be removed through the end of the school year with the option of early reinstatement if he could meet certain requirements. Derrick has enrolled in an alternative school program where he is making great academic progress. He has not had any behavior incidents at the new school and an evaluation is in process to determine if he qualifies for additional special education supports. He is on track to meet all the requirements for the early reinstatement.
Student Advocacy Center thanks our Empty Chair Sponsors:
Brewed Awakenings 
Bunek Dental Studio
Mary Jo Callan
Found Gallery
Francisco Sanchez
Ginsberg Center
Sen. Jeff Irwin
Andy LaBarre
Rep. Donna Lasinksi
MAIZ Mexican Cantina
Rep. Ronnie Peterson