Dear friends of RAC,               ,
When I wrote to you in December of 2022, I had been at Riverside Arts Center for just over a month, full of nervous excitement and hope. We have accomplished so much since then, and there is so much on the horizon to look forward to. The reaction we've gotten from the community as we've introduced new programming has been heartwarming and encouraging. It's clear our community is hungry for creative programming, and Riverside is poised to answer the call.
We are elated to announce that a generous supporter has offered to match your donation! Help us take this $25,000 gift and turn it into $50,000. Your contribution goes twice as far in bringing innovative, transformative art programming to Ypsi
In February of this year, over 75 community members joined us for our Community Feedback Conversations series to share their hopes and dreams for Riverside's future. We've taken this feedback to heart and are diligently working to create fantastic offerings, which will inspire Ypsilanti and beyond. You want more youth programming, a space for artists to gather to share ideas, and workshops and classes of all types for all ages. This is a lofty goal! We know we can make it all happen, but we need your help. Your response to this call for support has double the impact when you help us reach our matching goal.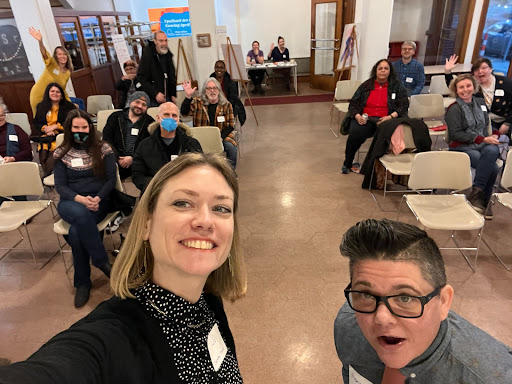 This spring, camp registration opened February 15, and not two weeks later we had a waitlist. This robust response clearly speaks to the need we are addressing both for our young art enthusiasts and their parents' summertime child care demands. Our summer camps are by far the most affordable in the area because we want quality, engaging art programming to be as accessible as possible. You can be part of sustaining these valuable resources by being part of our story with your gift.
Riverside was recently invited to be part of a local event where we brought materials for folks to stop by and make bracelets with us. It was quite a popular project! One woman and her adult daughter stopped by, and the mother quickly sat down and began crafting. About ten minutes later, the daughter came over to me and asked if they could take some materials to-go as her mother was refusing to leave. I responded that we could absolutely make a take-away packet for her, and the daughter elaborated, "This is the happiest I've seen her in years. She suffers from dementia, and I haven't been able to find anything that has kept her this calm for such a long period of time." As I immediately doubled the amount of materials we were sending them with, the mother approached me speaking in French. Her daughter translated, "I am a retired kindergarten teacher. I used to teach this activity. Now I am the one enjoying it." These are exactly the kinds of experiences that prove art and creativity can truly change our minds and heal our souls and the reason I am so passionate about this work.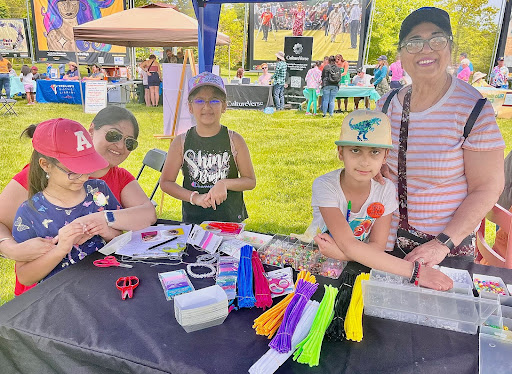 Everyone deserves an opportunity to access experiences like these. Nurturing ourselves through creativity, both individually and collectively is the powerful resource Riverside Arts Center can provide. If we were able to provide this valuable experience using something as simple as making a bracelet, imagine what we could do with full community support to create an intentional, multifaceted calendar of offerings. You can be part of changing the creative landscape of Ypsi by making a contribution.
The response to our initiation of Riverside's Ypsi Fine Arts Club has been exhilarating! Artists, creatives, art lovers, and curators are invited to gather at the Center. Artists have two minutes to present their artwork, talk about their process, and create meaningful relationships with other like minded folks. Every attendee leaves invigorated and inspired to either create or seek out more purposeful experiences. Valuable programs like YFAC are only possible with donor support. Your contribution – doubled by our match – actively changes the way people who interact with Riverside programming view themselves and creates new pathways for community connection. 
There is so much more we want to bring you! You can help continue to create transformational change through innovative classes, performances, camps, and more. These experiences are created with you in mind. Let us know that you believe in this work by showing your support with a gift. 
We envision intergenerational art classes and workshops, educational opportunities centering mental health, after school programming and so much more. All of our greatest dreams can turn the massive potential at our fingertips into a reality. If we all give, we all reap the rewards of collective generosity. Let your generosity reflect your desire to see Ypsilanti and its surrounding communities have the opportunity to succeed. 
With heartfelt gratitude,
Elizabeth Warren
Executive Director
P.S. Whether your donation is $50, $500, $5,000, or another amount that you choose, it will be matched dollar for dollar and provide immersive, transformative experiences for Ypsi and beyond. I hope you'll be part of Riverside's journey to effect change through art!