Our 24th season closes with Shakespeare in Love, based on the screenplay by
Marc Norman and Tom Stoppard, adapted for the stage by Lee Hall, with music by Paddy Cunneen.  PTD is proud to bring this amazing comedy, adapted from the box-office sensation 1998 movie, to Ann Arbor area theatre audiences.  Join us for a comedic celebration of poetry and young love!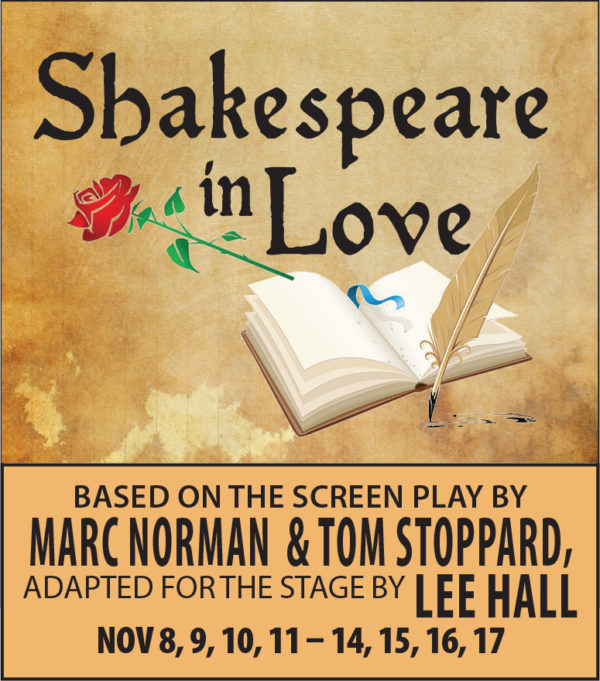 Shakespeare in Love 
at the Riverside Arts Center, Ypsilanti
November 8 – 11 and 14 – 17, 2018
Evening performances at 8pm
Sunday, Nov. 11 and Wednesday, Wednesday Nov. 14 are 2pm matinees
Penniless and indebted to two demanding producers, a struggling young playwright, William Shakespeare (David Liskow), is tormented by writer's block – until he meets the beautiful Viola de Lesseps (Patricia Sallans).  Viola has a fiery passion for poetry and quickly becomes the playwright's muse. Both Will and Viola are distraught when they learn that Viola's father has promised her to the stuffy Lord Wessex in order to gain a title for their family. Under veil of secrecy, their passionate love affair becomes the basis of the very play he is writing — Romeo and Juliet. With opening night — and the wedding day — fast approaching, the plots race toward a parallel conclusion. Will it all work out in the end or are the two star-crossed lovers destined for tragedy?
Directed by Joe York and featuring: David Liskow. Patricia Sallans, Tim Henning, Linda Lee Austin, Wyatt Woodside, Tyler Bell, Jeff Hackett, Susan Morris, Ethan Kelly, Gwenyth Darling, Kylie Alred, Skyler Baty, Alice Fell, and Cindy Franklin.   
Ticket prices are $18 general, $12 for students and seniors.  Thursdays are Pay-What-You-Can. Visit www.ptdproductions.com for more information and to learn about our Stimulus Program with the Four-Show Pass, Family Discount tickets and Group rates!   Call (734) 483-7345 to reserve tickets, or purchase online at our website. The Riverside Arts Center is located at 76 N. Huron Street, in historic downtown Ypsilanti, MI, about one mile north of the I-94/Huron Street exit.
PTD Productions is a registered, non-profit, community theater organization serving this area since 1994