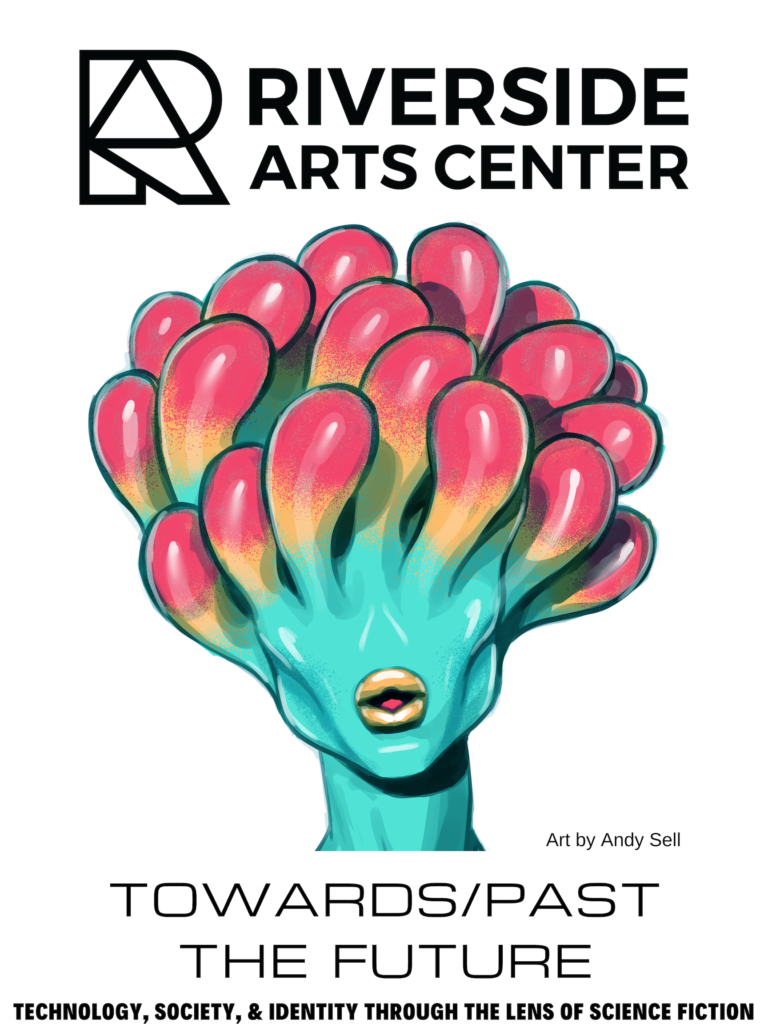 Riverside is seeking science fiction art for our March exhibit Towards/Past the Future. The exhibit will explore technology, society, and identity through the lens of Science Fiction.
Apply online here. Deadline to apply is February 20th.
Opening Reception March 1st 6:00pm-10:00pm
Opening Reception will feature a gallery full of visual art, performances by internationally acclaimed music genius Onxy Ashanti and an amazing audio narrative by North Coast Modular Collective, a robot* ready to play chess against gallery attendants, and other strange intergalactic oddities. The event is free, open to the public and there will be accompanying creative, educational, social programming for the entire month.
March Featured Artists
Daniel Dugan and Clela Powell
Chad Sell – chadsellcomics.com, Insta: chadsell01
Ali McLeod – Insta: alilytho
Natalie Berry – natsillustrations.com, Insta: natsillustrations
Cre Fuller – tinangrymen.com, Insta: crefuller
Brian Spolans – brianspolans.com, Insta: bspolans
Rik Cordero – www.rikcordero.com, Insta: rikcordero
Michael Flynn – funexhibits.com
Marlon Berry – Insta: marl.b313
Aaron Graff – artorig.com, Insta: artorig

Caeleigh Girard – cargocollective.com/cgirard, Insta: misscaeleigh
Nick Clark – Insta: nickclarkk
Anna Ferguson – wyervan.tumbler.com, Insta: wyervan
Kirstin Hensley – thecedarlakeworkshop.etsy.com, Insta: cedarlakeworkshop
Petra Kuppers Website – petrakuppersfiction.wordpress.com
James Noellert- jamesnoellert.com, Insta: jamesnoellert
Lavinia Hanachiuc – www.etsy.com/shop/AlmaPottery Insta: lavinia_hanachiuc